Cart (

0

)
Recently Added

0

Item
Total

$0.00
The item you just added is unavailable. Please select another product or variant.

Cart (

0

)
Recently Added
Total $0.00
The item you just added is unavailable. Please select another product or variant.
Hire Me
A jacket customized just for you
For your wedding day or just because you need a statement piece in your wardrobe, order your one-of-a-kind jacket made just for you by La Pimbéche! Custom jackets are made on thrift jackets and hand-painted with fabric acrylic paint.
Custom jackets can be created in small quantities and are individually priced. Keep in mind that each jacket is original artwork and handmade. Price varies from the artwork requested. All custom orders start at $500 (+tx.).
artwork made just for you
Need an illustration for any type of event or campaign? From a band tour poster to your wedding collateral branding or to digital banners for your event project, La Pimbèche can help create your vision into visuals.
Illustrations help your personal, group or event branding identity. La Pimbêche can make your thematic come to life or bring your personal essence to your event or project. Submit your request and brief in the form below.
Fill up the form below. Be as detailed as possible. Introduce yourself, maybe some background if you feel it's necessary for the project. What are the elements you want to see in the artwork? What is your budget?
La Pimbêche will connect with you by email and will book a video call to go through all the details. Make sure your have all your questions ready!
Am in person meeting at La Pimbêche's workshop office is necessary to choose the thrifted jacket. We carry a vast collection of thrifted jackets available to our clients.
An agreement will be shared with you. A 50% deposit is required before starting the art process.
Digital mock-up sketches will be sent to you via email for a maximum of 3 rounds of feedback until the artwork is finally approved by you. Depending on the art project, the execution could take 3 to 4 weeks
All art projects and custom jackets go through a quality control process and have a serial number. For custom jackets, the final masterpiece is dry cleaned and ready to be worn! A photo of the final art piece will be sent to you by email and in-person pick up will be booked.
Words from our costumers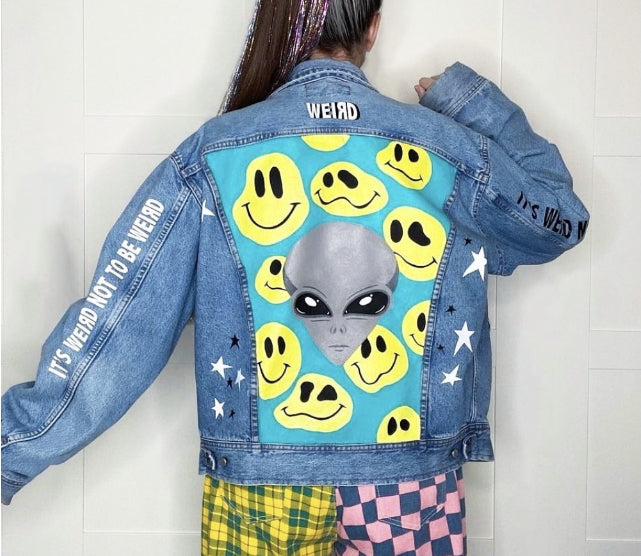 ELLE WARREN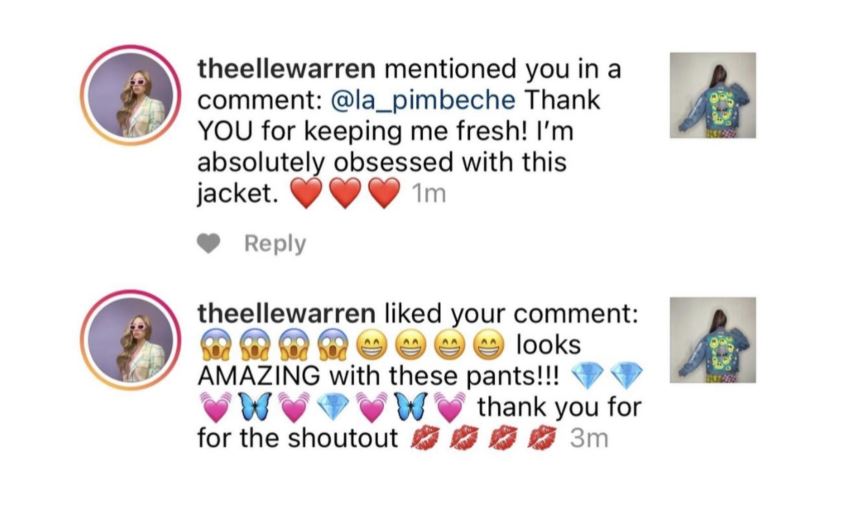 SARAH COUTURE
"Qui a la plus belle veste en jeans custom? C'est MO! Merci @la_pimbeche pour le résultat parfait! GRL POWER. Elle peint le tout à la main sur des vestes vintage ou Levi's!! Elle fait de superbes oeuvres , elle prend aussi les demandes spéciales comme
la mienne."
ELISABETH
J'ai adoré le processus qui était vraiment simple. Patricia est hyper sympathique et a embarqué à 110% dans le projet. Le résultat final est PHÉNOMÉNAL et exactement ce que je voulais et bien plus.

C'est vraiment expérience le fun et j'ai maintenant une pièce de vêtement unique et personnelle.
MARIANNE PLAISANCE FROM 2E PEAU YOUTUBE CHANNEL.
"Je viens de mettre en ligne une de mes vidéos préfs EVEER!! Je vous montre tous ces sublimes vêtements et accessoires custom faits à la main, et je vous parle des créateurs derrière ces morceaux. Je suis en totale admiration face à ces artistes et ce qu'ils ont créé!"